Fifty-four ceramic panels hung and counting, as our Artists' Residency at St David's Oriel y Parc Tower Gallery enters its second week.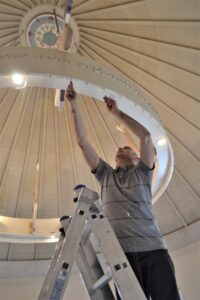 I'm getting the hang of hanging – up the ladder, fixing Maria Jones Cermartist's porcelain panels – and there are more to come once the kiln is fired up again.
Come along, 10 am – 3 pm each day, have a look at progress and maybe even leave a note of your most precious Pembrokeshire memory for us to enshrine in porcelain.